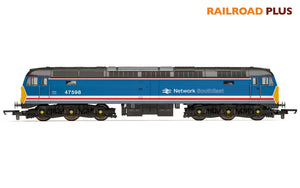 Hornby
Hornby R30187 RailRoad Plus NSE, Class 47, Co-Co, 47598 - Era 9
Regular price
£87.39
Sale price
£96.99
Unit price
per
Tax included.
The British Rail Class 47 is a class of British railway diesel-electric locomotive that was developed in the 1960s by Brush Traction. A total of 512 Class 47s were built at Crewe Works and Brush's Falcon Works, Loughborough between 1962 and 1968, which made them the most numerous Class of British mainline diesel locomotive. They were classified as Type 4s.
They were fitted with the Sulzer 12LDA28C twin-bank twelve-cylinder unit producing 2,750 bhp (2,050 kW) - though this was later derated to 2,580 bhp (1,920 kW) to improve reliability - and have been used on both passenger and freight trains on Britain's railways for over 50 years. Despite the introduction of more modern types of traction, a significant number are still in use, both on the mainline and on heritage railways. As of October 2016, 81 locomotives still exist as Class 47s, with further examples having been converted to other classes; 30 retain "operational status" on the mainline.
By 1986, only five of the original 512 locomotives had been withdrawn from service, all because of serious accident damage. However, with work for the Class declining due to the introduction of new rolling stock and spare parts becoming difficult to source, some inroads started being made.
The first locomotives to be targeted were the non-standard pilot batch of 20, now numbered 47 401-47 420. Three locomotives were withdrawn as life-expired in February 1986 and the remainder of the batch that had not recently been overhauled followed in the next two years. All 20 were withdrawn by 1992.
Meanwhile, BR drew up a 'hit-list' of locomotives for early withdrawal, mainly including those with non-standard electrical equipment, known as series parallel locomotives. In the outset, withdrawals were slow, mainly due to the surplus of spare parts and new flows of freight traffic which required extra locomotives; only 61 locomotives had been withdrawn by the end of 1992. However, with the introduction of new locomotives, the rate of withdrawal quickly rose, with 86 more 47s reaching the end of their lives in the next three years. With most of the non-standard locomotives withdrawn, the reduction of the fleet again proceeded more slowly. The privatisation of British Rail also produced new independent rail companies needing available traction until they could order new locomotives. From 1996 to 2006, an average of around fifteen locomotives per year were taken out of service.
---